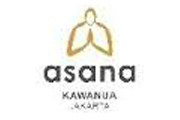 Asana Kawanua Jakarta
room Jl. Cemp. Putih No.120, RT.8/RW.3, Cemp. Putih Tim., Kec. Cemp. Putih, Kota Jakarta Pusat, Daerah Khusus Ibukota Jakarta
Feel at home instantly as the warn Kawanua smile greets you upon your arrival to Jakarta. With its name taken from the South Sulawesi word meaning 'fellow Manadonese', the hotel brings a piece of North Sulawesi's unique charm into the big city. Smell the soothing green bamboo scent right as you walk into the hotel lobby, and let the friendly smile and heartfelt greeting make you feel at home.
Retreat to one Asana Kawanua's seventy-eight rooms and suites, equipped with modern amenities and personal touches like a serving of seasonal fruit and a comforting Indonesian wedang (warm beverage) upon arrival, to the body pillow, or also known as 'Dutch Wife' placed in each bed.
Just 20 minutes away from the Soekarno Hatta International Airport, its location in Cempaka Putih allows easy access to the Jakarta Outer Ring Road and to the government and business districts of Jakarta, perfect for business travelers. Shopping destinations like Mangga Dua are also minutes away, while the culinary haven of Kelapa Gading will overwhelm you with its immense food options.
FACILITIES
arrow_right 24 hours reception and lobby area
arrow_right 24 hours security
arrow_right Daily Housekeeping
arrow_right Free Wi-fi
arrow_right Front desk (24-hour)