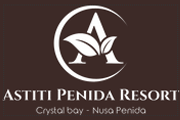 Astiti Penida Resort & Spa
room Jl. Crystalbay, Sakti, Nusa Penida, Kabupaten Klungkung, Bali 80771
Welcome to AstitiPenida Resort & Spa

A Home In A Natural Environment Living

AstitiPenida Resort is a charming resort in just a few minutes walk to crystal bay beach for doing Sunbhating,Fishing, Diving, Snorkeling activities in Crystal Bay Beach,and 35 minutes from Toyepakeh Traditional market and Penida harbor / port, Our ResortSurrounded by the expansive of Coconuts Treeand AstitiPenida Resortis a home of Natural Environment living . Experience the richness of authentic Balinese Activities in the unique traditional village of Penida Village. When you stay at AstitiPenida Resort, you are sustaining Bali's Marine Life and natural environment.

AstitiPenida Resort offers 5 units One Bedroom Villa with Garden and Pool View. Enjoy a refreshing and relaxing stay at our resort in Nusa Penidawith our range of 4-star hotel facilities, including a restaurant, spa, swimming pool.
FACILITIES
arrow_right 24 hours security
arrow_right Car park
arrow_right Free Wi-fi
arrow_right Free WIFI Access
arrow_right Front desk (24-hour)
arrow_right Laundry Service
arrow_right Massage
arrow_right Restaurants
arrow_right Room Service
arrow_right Spa
arrow_right Swimming pool