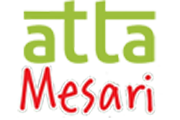 Atta Mesari Villa
room Jl. Suweta, Ubud, Kec. Ubud, Kabupaten Gianyar, Bali 80571
Welcome to Atta Mesari. Be yourself at Atta Mesari.

Atta Mesari Resort & Spa is a luxury traditional boutique resort, a home to experience the uniqueness cultural and nature, laid out toward the river facing to the beautiful rice terrace view. This newly-built property has a distinctive architectural style blending modern and traditional Balinese influences. Great facilities with beautiful landscapes of overlooking the rice paddies and river makes Atta Mesari a favourite place to stay in with your loved ones, friends and other family members.

Atta Mesari Resort & Villas offers 24 luxurious accommodations from Suite Rice Terrace, One Bedroom Pool Villa and Two Bedroom Pool Villa.
Some facilities in the resort such as Blue Duck restaurant located at the edge of the river, stylish infinity swimming pool, Rama and Sinta Jungle Spa, Indoor yoga centre, and spacious open wedding venue by the pool with lush green forest scenery.
Atta Mesari Resort & Villas offers some activities daily excursion, yoga, morning village walking, cooking class, making Balinese offeringas well as adventure tours enhancing the value of your stay in Ubud Bali.

Our friendly and professional staffs are ready to serve you with a warm welcome, compliance your needs during your stay and ensure your stay will be memorable.
FACILITIES
arrow_right 24 hours security
arrow_right Free Wi-fi
arrow_right Laundry Service
arrow_right Luggage storage
arrow_right Restaurants
arrow_right Shuttle service
arrow_right Spa
arrow_right Swimming pool (outdoor)