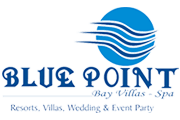 Blue Point Bay Villas & Spa
room JL Labuan Sait, Pantai Suluban (Blue Point Beach) Uluwatu, Pecatu, Kuta Selatan, Pecatu, Kec. Kuta Selatan
The First Sunset Ocean View.
Imagine a resort with a backdrop exposed to the elements of the ocean.
Blue Point Bay Villas & Spa has designed to harmonize with the surrounding environment and reflect the true elegance of Balinese artistry. The romantic idea resolved in a concept, combining state of the art comfort with the genuine Indian Ocean view. Probably there is no comparison to this area in Bali, possibly in the world.
Located on the top of cliff southern shore of Bali, right on the pristine Uluwatu , Pecatu Village offering it's incredible location with serenity, tranquility and unobstructed view of Indian Ocean for nature lover.
FACILITIES
arrow_right Bar
arrow_right Free WIFI Access
arrow_right Laundry Service
arrow_right Parking Area
arrow_right Restaurants
arrow_right Room Service
arrow_right Safety Deposit Boxes
arrow_right Spa
arrow_right Swimming pool