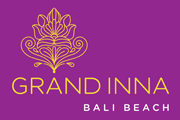 Grand Inna Bali Beach
room Jalan Hang Tuah Jalan Inna Grand Bali Beach, Sanur Kaja, South Denpasar, Sanur Kaja, Kec. Denpasar Selatan
"Located on the site of Bali's first five-star Hotel Bali Beach, founded in 1966 - is the most complete resort complex in Bali, featuring state-of-the-art visitor facilities, but also numerious artistic amenities that bring to life the cultural excellence of the Balinese people and their many talented neighbors.
Sanur, Bali's original seaside, has long been known for its world class facilities and atmosphere of comfort and privacy. This oasis of luxury offers a wide range of dining and leisure opportunities.
Grand Inna Bali Beach is a member of Hotel Indonesia Group as part of Inna Hotel & Resort, a State's Owned Enterprise engages in hospitality industry. Hotel Indonesia Group begins with the signing of the Agreement of Cooperation on 12 February 2016 in the office of Ministry of State-Owned Enterprises. This landmark agreement established the Hotel Indonesia Group, a network of hotels under the largest national hotel chains in the country: Aerowisata, Inna Hotel & Resort and Patra Jasa. It aims to help bring Indonesia's hotel and hospitality industry at par with international quality standards through joint activities, marketing and shared learning. As a government-owned enterprise, Hotel Indonesia Group envisions to play a significant role in organizing foreign visits to the archipelago and to partner with other state-owned enterprises encouraging cooperation with local governments to build and manage hotels in the group."
FACILITIES
arrow_right 24 hours reception and lobby area
arrow_right 24 hours security
arrow_right Bathtub
arrow_right Bicycle Rental
arrow_right Doctor on Call
arrow_right Laundry Service/Dry Cleaning
arrow_right Meeting Facilities
arrow_right Parking Area
arrow_right Safety Deposit Boxes
arrow_right Salon
arrow_right Shops
arrow_right Smoking Room
arrow_right Taxi service