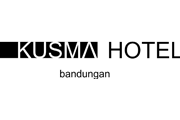 Kusma Hotel
room Jl. Raya Bandungan Sumowono, RT.02 / RW.06, Jetis, Bandungan, Semarang, Jawa Tengah 50665
Built in 2015, The Kusma Hotel Semarang is a distinct addition to Semarang and a smart choice for travelers. From here, guests can enjoy easy access to all that the lively city has to offer. With its convenient location, the hotel offers easy access to the city's must-see destinations.

Take advantage of a wealth of unrivaled services and amenities at this Semarang hotel. To name a few of the hotel's facilities, there are free Wi-Fi in all rooms, 24-hour security, daily housekeeping, 24-hour front desk, express check-in/check-out.

In addition, all guestrooms feature a variety of comforts. Many rooms even provide television LCD/plasma screen, non smoking rooms, air conditioning, desk, balcony/terrace to please the most discerning guest. The hotel's children's playground, tennis courts are ideal places to relax and unwind after a busy day. The Kusma Hotel Semarang is an ideal place of stay for travelers seeking charm, comfort and convenience in Semarang.
FACILITIES
arrow_right 24 hours reception and lobby area
arrow_right CCTV
arrow_right Family Room
arrow_right Free Wi-fi
arrow_right Free WIFI Access
arrow_right Laundry Service
arrow_right Meeting Facilities
arrow_right Non-smoking room
arrow_right Parking Area
arrow_right Restaurants
arrow_right Room Service