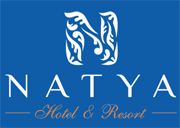 Natya Resort Ubud
room Jl. Kelabang Moding, Tegallalang, Ubud, Tegallalang, Kabupaten Gianyar, Bali 80571
Natya Hotels' latest offering is this striking up and coming resort in Ubud, which will treat guests seeking a scenic retreat amidst Bali's verdant and cultural heartland. The resort is located in a pristine valley, located within the rural upland neighbourhood of Banjar KelabangModing, which is within only a 15-minute transfer to the hub of Ubud town. The secluded area is enteredthrough JalanSuweta,up north from the Ubud Royal Palace.

Natya Resort Ubud is situated amidst flowing green rice fields carved into the Oos River valley. offering the most unique staying experience amongst all Natya Hotels to date. Guests staying at any of its well-furnished villas will enjoy the vast beautiful greenery overlooking the riverbanks. There are currently a total of 24 villa units to choose from, which come in one-bedroom pool and deluxe villa choices.

Natya Resort Ubud perfectly suits honeymooners and couples, particularly those looking for a perfect blend of rural Balinese countrysideseclusion and a truly romantic atmosphere. Overall, it is ideal for an escape from the common crowds and the hustle and bustle of town. All villasare built with privacy in mind, with a subtle blend between modern and traditional architecture, with private gardens and pools, and spacious bathrooms with outdoor and indoor showers.
FACILITIES
arrow_right 24 hours reception and lobby area
arrow_right 24 hours security
arrow_right Bathtub
arrow_right Bicycle Rental
arrow_right Car and Motorbike Rental
arrow_right CCTV
arrow_right Doctor on Call
arrow_right Family Room
arrow_right Free beverage (upon arrival)
arrow_right Free WIFI Access
arrow_right Garden
arrow_right In villa dinning
arrow_right Laundry Service
arrow_right Laundry Service/Dry Cleaning
arrow_right Luggage storage
arrow_right Massage
arrow_right Open concept lobby
arrow_right Parking Area
arrow_right Private swimming pool
arrow_right Safety Deposit Boxes
arrow_right Salon
arrow_right Semi Butler Service
arrow_right Smoking Room
arrow_right Taxi service