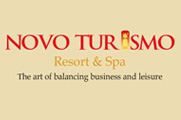 Novo Turismo Resort & Spa
room Avenue Bidau, Lecidere, Dili - Timor Leste, Díli 670, Timor Leste
NOVO TURISMO Resort & Spa

WELCOME, you have found the home of perfect balance in idyllic Timor Leste. This stunning New Hotel in Dili has been custom built to fulfill all your needs during your stay in this new and amazing country

NOVO TURISMO Resort & Spa could easily be described as an Innovation Centre. Everything can be done under the one roof; it is truly a multi-functional Hotel in Dili. Aesthetically pleasing to the eye, contemporary Modern Architecture with soft arches and strong wooden frames. Natural Stone creates a magnificent textured wall feature. The lobby entrance is a commanding and truly amazing wooden steeped high rise roof, absolutely elegance.
FACILITIES
arrow_right 24 hours reception and lobby area
arrow_right 24 hours security
arrow_right Bathtub
arrow_right Business Center
arrow_right Car and Motorbike Rental
arrow_right CCTV
arrow_right Fitness Center
arrow_right Foreign Exchange
arrow_right Free Wi-fi
arrow_right Free WIFI Access
arrow_right Garden
arrow_right Laundry Service
arrow_right Laundry Service/Dry Cleaning
arrow_right Luggage storage
arrow_right Massage
arrow_right Meeting Facilities
arrow_right Meeting room / Conference
arrow_right Parking Area
arrow_right Poolside Bar
arrow_right Safety Deposit Boxes
arrow_right Swimming pool