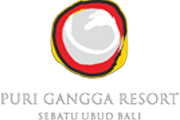 Puri Gangga Resort & Spa
room Sebatu, Tegallalang, Kabupaten Gianyar, Bali 80561
Welcome to Puri Gangga Resort

Puri Gangga Resort is a charming luxury boutique resort in Ubud, a home of living cultures where you can experience the richness of Balinese cultures live naturally in the village of Sebatu. Puri Gangga Resort is located only 25 minutes drives from the hustle and bustle of Ubud, a home of art and culture and only 35 minutes drives from Kintamani Lake Batur, a world Geo Park site. Puri Gangga Resort is surrounded by the extensive of beautiful rice terrace view of Ceking Tegalalang Ubud, an ancient historically Hindu's temple called Gunung Kawi where specific ceremonies host regularly and people do purification, and exactly located at the uniqueness of traditional Balinese village called Sebatu Ubud.

Puri Gangga Resort offers 20 charming luxury rooms with four categories: 8 Deluxe Rooms, 8 Suite Rooms, 2 Garden Villas and 2 Pool Villas. The resort has Restaurant, Spa, Swimming pool and Yoga centre. Staying at Puri Gangga Resort means you are sustaining the cultural and natural environment.
FACILITIES
arrow_right 24 hours security
arrow_right Bicycle Rental
arrow_right Business Center
arrow_right Family Room
arrow_right Free WIFI Access
arrow_right Garden
arrow_right Laundry Service
arrow_right Luggage storage
arrow_right Massage
arrow_right Meeting Facilities
arrow_right Safety Deposit Boxes
arrow_right Salon
arrow_right Taxi service
arrow_right Tours