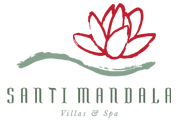 Santi Mandala Villa & Spa
room Banjar Bucuan, Batuan, Sukawati, Gianyar, Bali 80582
A SERENE & EXQUISITE RETREAT

Santi Mandala Villa & Spa is set in 3.5 hectares of hillside garden, located on the outskirts of Ubud and superbly positioned facing a breathtaking view of Tanaraga Giri Lake, rice paddies, and tropical greenery. Just 25 minutes by car from Ubud, with all its cultural and dining attractions, Santi Mandala Villa & Spa provides a spacious, stylish, luxurious environment in which to enjoy some of life's better moments.

Service is always with smile. from the first moments of your arrival at Santi Mandala Villa & Spa, our professional and Balinese staff will greet you with a traditional welcome drink and ensure your every need is taken care of.
FACILITIES
arrow_right 24 hours reception and lobby area
arrow_right 24 hours security
arrow_right Airport transfer
arrow_right Bar
arrow_right Bathtub
arrow_right Bicycle Rental
arrow_right Business Center
arrow_right Car and Motorbike Rental
arrow_right Car park
arrow_right Concierge
arrow_right Convenience Store
arrow_right Currency Exchange
arrow_right Daily Housekeeping
arrow_right Doctor on Call
arrow_right Dry Cleaning
arrow_right DVD library at reception
arrow_right Family Room
arrow_right Foreign Exchange
arrow_right Free Wi-fi
arrow_right Free WIFI Access
arrow_right Front desk (24-hour)
arrow_right Garden
arrow_right Hiking
arrow_right In villa dinning
arrow_right Jacuzzi
arrow_right Laundry Service
arrow_right Laundry Service/Dry Cleaning
arrow_right Luggage storage
arrow_right Massage
arrow_right Meeting Facilities
arrow_right Meeting room / Conference
arrow_right Non-smoking room
arrow_right Not Pets Allowed
arrow_right Open concept lobby
arrow_right Parking Area
arrow_right Poolside Bar
arrow_right Private swimming pool
arrow_right Rental car
arrow_right Restaurants
arrow_right Room Service
arrow_right Safety Deposit Boxes
arrow_right Salon
arrow_right Shuttle service
arrow_right Smoking area
arrow_right Smoking Room
arrow_right Spa
arrow_right Swimming pool
arrow_right Swimming pool (kids)
arrow_right Swimming pool (outdoor)
arrow_right Swimp Up Bar
arrow_right Table Tennis
arrow_right Taxi service
arrow_right Tours
arrow_right Valet parking
arrow_right Wi-Fi in public areas
arrow_right Yoga Room