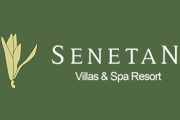 Senetan Villas & Spa Resort
room Br. Penginyahan, Puhu, Payangan, Kabupaten Gianyar, Bali 80572
Senetan Villas & Spa Resort "Discover Serenity"
This extraordinary private villa is nested on the center of Bali overlooking the deep forest and hills of Payangan. This area retains all its magic and is regarded as one of the best kept secret in Bali. Benefiting from extremely tropical climate, bathed by sun and enjoying gentle breezes one finds the door through wilderness full of wild trees & shrubs, just as lush patches of multicolored wild flowers and paddy fields. In short the visitor finds here the essence of le vie douce; light, views, perfumes, tropical climate and culture.
Senetan Villas and Spa Resort is owned by the Royal Balinese family of Payangan Palace, Bali. Presenting a sincere nobility manner of Balinese hospitality and culture. It features accommodations overlooking to the forest create an atmosphere of unforgettable luxury. Well set suites for couple, family, group and independent travelers. Designed to meet the need of International travelers, there are 11 unit of modern villas with 16 rooms.
FACILITIES
arrow_right 24 hours reception and lobby area
arrow_right 24 hours security
arrow_right Bar
arrow_right Bicycle Rental
arrow_right Business Center
arrow_right Car and Motorbike Rental
arrow_right Car park
arrow_right CCTV
arrow_right Daily Housekeeping
arrow_right Family Room
arrow_right Free beverage (upon arrival)
arrow_right Free Wi-fi
arrow_right Free WIFI Access
arrow_right Gift/souvenir shop
arrow_right Hiking
arrow_right In villa dinning
arrow_right Laundry Service
arrow_right Laundry Service/Dry Cleaning
arrow_right Library
arrow_right Luggage storage
arrow_right Massage
arrow_right Meeting Facilities
arrow_right Meeting room / Conference
arrow_right Non-smoking room
arrow_right Not Pets Allowed
arrow_right Parking Area
arrow_right Private swimming pool
arrow_right Restaurants
arrow_right Room Service
arrow_right Safety Deposit Boxes
arrow_right Shops
arrow_right Shuttle service
arrow_right Spa
arrow_right Swimming pool
arrow_right Swimming pool (outdoor)
arrow_right Tours
arrow_right Wi-Fi in public areas