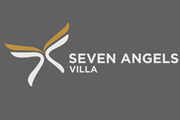 Seven Angels Villa
room Jalan Taman Ria No.12 Kel. Mumbul, Benoa, Kec. Kuta Sel., Kabupaten Badung, Bali 80363
Located in the good spot of Nusa Dua, Seven Angels Villa resonates and reflects the Indonesia folklore called Raja Pala and The Seven maidens where he hides one of the maiden's wings. A beautiful place called Dedari where Raja Pala saw all of this Seven Angels but falling in love with one of them named Sulasih.

Inspired and draw it into reality from Dedari, Seven Angels Villa present a magnificent view to see the beautiful sunset with a stylish modern architecture. Seven Angels Villa accommodates 35 rooms including 28 Deluxe Villa types with private pool, 5 units of one bed suite with private pool and 2 units of three bed rooms with private pool.

While love is a beautiful expression of life, romance is a beautiful expression of love. Say what you need to say in our unordinary pathway. Start your own love story and other magnificent experience at Seven Angels Villa, a jewel in the sprawling of Bali Island. Exquisite your journey and merge with our beautiful place to stay.
FACILITIES
arrow_right 24 hours reception and lobby area
arrow_right 24 hours security
arrow_right Bathtub
arrow_right Car and Motorbike Rental
arrow_right CCTV
arrow_right Doctor on Call
arrow_right Free WIFI Access
arrow_right Laundry Service
arrow_right Laundry Service/Dry Cleaning
arrow_right Luggage storage
arrow_right Massage
arrow_right Meeting Facilities
arrow_right Parking Area
arrow_right Private swimming pool
arrow_right Safety Deposit Boxes
arrow_right Semi Butler Service
arrow_right Taxi service
arrow_right Tours