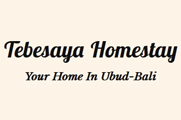 Tebesaya Homestay
room Jl. Sukma No 6, Br. Tebesaya, Peliatan, Ubud, Peliatan, Kec. Ubud, Kabupaten Gianyar, Bali 80571
Welcome to Bali – Welcome to Ubud – Welcome to Tebesaya Homestay

Tebesaya Homestay is a budget accommodation that offer you a modern living in a Balinese Family House Compound.
4 Deluxe Rooms with modern touch of Balinese style accommodation, Located only 1 km from the city center of Ubud, in an area that growing become a popular destination for a budget accommodation in Ubud Bali.

It is within easy reach to many tourist attractionin ubud and tourist highlights in bali, and an area where you can explore the true of Balinese arts and culture of Peliatan Village.
Make your holiday memorable with more interaction with your Balinese family, and we assure you that tebesaya homestay will be your favorite home when in ubud Bali.
FACILITIES
arrow_right Free WIFI Access
arrow_right Garden
arrow_right Laundry Service
arrow_right Luggage storage
arrow_right Massage
arrow_right Safety Deposit Boxes
arrow_right Taxi service
arrow_right Tours