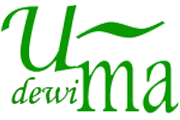 Uma Dewi Guest House
room Banjar Pengosekan Kaja, Ubud, Kec. Ubud, Kabupaten Gianyar, Bali 80571
A Balinese traditional budget accommodation in the centre of Ubud, Bali.
In many ways, the history of the Ubud area (not so much the modern day town) is the very history of Bali itself. Ubud has a known history back to the eighth century, when the Javanese Hindu priest Rsi Marhandya came to Bali from Java, and meditated at the confluence of the two Wos rivers at Campuan, just west of the modern day town centre. A shrine was established and later expanded by Nirartha, the Javanese priest who is regarded as the founder of Bali's religious practices and rituals as we know them today. At this time the area was a center of natural medicine and healing, and that is how the name Ubud originated: Ubad is ancient Balinese for medicine.

UMA DEWI is derived from Sanskrit words, Uma means rice or symbolic of prosperity and Dewi means goddess. UMA DEWI means Goddess of prosperity.

Uma Dewi Guesthouse is a perfect choice of a budget accommodation located in the heart of a famous village of Ubud with the beautiful nature and Balinese Art. A few minutes' walk from famous Balinese fortuneteller' house Ketut Liyer which was famous with the movie of "Eat, Pray, Love" by Elizabeth Gilbert, you can feel the thrill of the religious, culture and art activities of the area. Uma Dewi offers the comfortable accommodation in the center of real Balinese society of life in Ubud Bali. Set in the Balinese atmosphere which is famous with the high level cultural makes your stay more enjoyable. Learning a lot of the Balinese way of life, social activities and how easy to make an acquaintance with the Balinese people will bring you in such a new life experience.

Uma Dewi Guesthouse provides 1 unit 3 bedrooms can be rent all or individually with a real budget accommodation and personality of the Balinese charming services for your holiday in Bali. The rooms are designed comfortable with Balinese architectures and it is surrounded by the lush tropical garden, flower and tropical orchids. Completing with air-conditioner in the bedroom, high quality of mattress & pillow will make you feel like staying in star hotel. Bathrooms are designed with hot & cold water of showers facilities, toiletries and comfort bath & face towels. The museums, shopping areas, galleries, restaurants and Ubud monkey forest are the choice of your holiday to be explored within 10 minutes walking distance. And Ngurah Rai International airport is 45 minutes by car to Uma Dewi Guesthouse.
FACILITIES
arrow_right Airport transfer
arrow_right Bicycle Rental
arrow_right Daily Housekeeping
arrow_right Family Room
arrow_right Free Wi-fi
arrow_right Free WIFI Access
arrow_right Garden
arrow_right Laundry Service
arrow_right Luggage storage
arrow_right Meeting Facilities
arrow_right Non-smoking room
arrow_right Smoking area
arrow_right Tours
arrow_right Wi-Fi in public areas